Frequently asked questions
Are the manuals already accredited?
---
No, you will need to submit the manuals under your own company name to your chosen accreditation company. This allows you to issue certificates in your own company name.
---
What accreditation companies will accept the manuals?
---
To date we have had no issues in regards to manuals passing accreditation with a number of providers. The manuals are all written to meet a certain level of criteria that all companies will expect. You may be asked to provide a copy of the purchase invoice at the time of application to prove you have the legal rights to use the manuals. Accreditation companies may also confirm this with ourselves to prevent misuse of our licensing.
Our manuals are all pre-approved through the Centre of CPD Excellence and will allow you to go through the accreditation process quicker than other providers.
---
Can I give copies to my students?
---
Yes! That's exactly what they are for. Once you purchase an editable manual, it is yours to issue to students that attend your training courses. All we ask is that you do not re-sell them to other academies or allow other 3rd party companies to use our teaching material without our express written permission
---
Is there any ongoing fees, hidden charges or catches?
---
No! Once you purchase the manual it is yours to use as you need, to deliver your training courses. There is no charge per student, per year or per download like some other providers.
---
How do I receive the documents?
---
Documents are all instant downloads from the website. Upon completion of checkout you will be taken to a page where you can download the items directly to your own computer. A thank you email is also sent which has the links to your files attached. Documents are formatted in Microsoft word or Microsoft PowerPoint so that they can be edited by yourself. Some orders are downloaded as a 'zip' file. This is basically a compressed folder which contains several documents. It's compressed to allow for quicker and easier uploading and downloading. You do not need any special apps to open the file. To access the files within, either double click the zip file and it will open the contents, or right click on the file and uncompress or open the file from there.

If you have ordered a 'Build your own Academy' package or a package that requires you to select your manuals, then these will be sent via Dropbox. In order to complete the transaction you will need to send an email to salonexpertuk@gmail.com with your order number and the manuals or other documents you require. A file link will be emailed to you within 2 working days containing all your purchased documents.
---
How much editing will they need for me to use them?
---
It is worth reading through the manuals upon purchase and checking that it suits your method of teaching. This may mean altering and changing treatment protocols or timings or maybe adding in sections about a certain product, ingredient or machine manufacturer if you desire. However the manuals are written entirety and can be used as they are once you add your own company logo to the manual and fill in the footer with your company name and details. Some academies choose to completely brand the manuals with corporate colour schemes or design fancy workbooks in apps such as Canva. The choice is completely yours!
---
I am after a manual, but can't see it on your website. Do you have it?
---
If you are unable to find what you are looking for, please contact us at salonexpertuk@gmail.com. It may be that the file is listed as a different name than you may be searching for.

It is my intention to release many more manuals, powerpoints and teaching aids. Please join our mailing list to be the first to hear about new releases and special offers.
---
My training was really bad, and so was my manual. I feel I lack the knowledge to perform the treatment. Can I purchase your manuals to help expand my knowledge?
---
I have experienced many bad training courses and even worse training material. I get equally frustrated when a lack of theory is delivered on a course. The manuals are quite in depth compared to many other academies (and why so many academies now purchase direct from me). I always try to include as much knowledge from various sources as I can, whilst keeping it simple enough to cover in a theory session of a couple of hours. Whilst my manuals could boost your understanding and knowledge somewhat more, they're really not a substitute for good training and good books. Sometimes it is better to invest in further training or an advanced book on the subject in question and take your learning to the next level!
---
Do you have a sample of your manuals?
---
We do get regular requests for samples so we have uploaded a regular and advanced manual to YouTube to show you what they are like. As we have so many products available, it is currently impossible to add samples for 100+ manuals.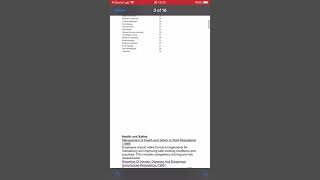 ---
Can I see an example of your aesthetic manuals?
---
Due to the huge amount of available manuals that we have online, it is impossible for us to add samples to all of manuals. However you can check out an example of one of manuals on the video below.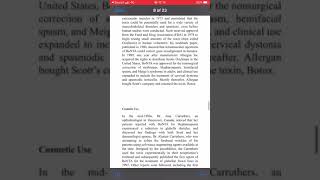 ---
Can I buy your manuals to resell or license them to other academies?
---
Our terms of licence clearly state that our manuals are not to be resold or licensed to other training academies than the one you own. All documents are digitally imprinted and can be traced back to the original purchaser. Anyone found to be breaching our terms and reselling our Manuals will face legal action. The manuals listed are many hours, years and possibly tears from hard work. I am selling them at reasonable and affordable prices so that training academies can get started earning money quickly and easily and save many hours of graft, typing up manuals. It is unfair that a couple of companies feel it acceptable to resell these at 3-5 times my own prices and keeping 100% of the profit from my hard work. I was the first company to put manuals on general sale, and since November 2018, many have tried to copy what I am doing. Whilst I don't mind competition, please don't do this by selling my manuals on.
---
How does your 'Build your own Academy' work?
---
Watch our video below that hopefully answers all your questions.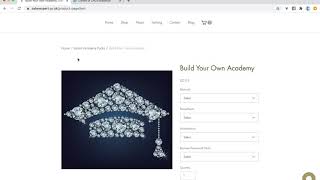 ---
Can I pay in instalments?
---
Yes! We are partnered up with LayBuy where you can choose to pay for your order over 6, interest free, weekly payments, spreading your cost. You will get to receive all your order straight away and start earning money while paying for your package or manuals.

The repayments are available on every item for you to see and you can choose LayBuy at checkout to place your order.
---
I lost my link/files/computer or hard drive what can I do?
---
We ask that you save your files immediately after purchase to your computer and hard drive. We suggest that you also keep a back up copy, either on a removable disc or flash drive, or on a cloud based server. Salon Expert are not responsible for lost or damaged files, so please ensure you have copies backed up. If you have an issue with a recent purchase, please contact us within 30 days so we can help you. This may be issues with files downloading or missing files or links. In the event that we are your last resort at retrieving your files we charge £25 per order, PLUS £1 for every item purchased on the order. For full details please read our terms and conditions.
---
There are some errors in the manuals, i.e. spelling errors, font differences or sizes. What should I do?
---
I am only human and sometimes, even with the greatest of spell checks, errors may be present in the manuals. Whilst we endeavour to ensure that this does not occur, it may be likely due to the sheer file size and also dependent on your location. Manuals are written using UK english, however, some occasions the US english spelling may be present and not picked up on a spell check.

Our manuals are fully editable and you are able to change the wording, fonts or font sizes as well as any images within the manual.

If you do find mistakes, please highlight these for us and we will correct them.


---
---